Latest Restaurant City Customer and Quiz Cheat from piaip working January 2010
A Taiwanese Programmer managed to make a program that patches the flash game Restaurant city, without even having to use cheat engine.  The program is called piaip.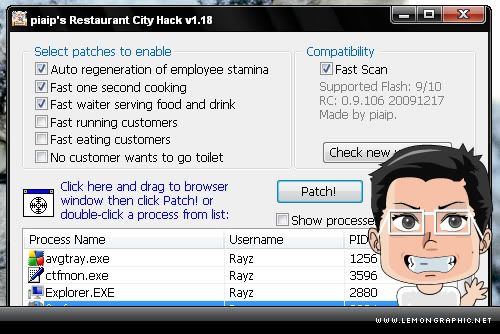 1) Auto Regeneration of Employee Stamina
2) Fast Cooking
3) Fast Serving
4) Fast Customer
5) Fast Eating
see video
Tools you need :
2) Firefox or Internet Explorer
3) Adobe Flash Player 10.0 and 9.0, internet exlporer also works.
note: in the 1.18 version:
doesn't work: fast waiter serve,
works: auto regenerate stamina, fast 1 second cooking, fast running customers, fast eating customers, no need for toilet.
*tested on firefox, results were varied in other browsers.
Note: there was also a PIAIP RC Patch version 2.12 released last December 2, 2009, but the author took it out and retained only version 1.18
PIAIP download link: PiaipRCHack v2.12
2.12 contained the other variations:
Quiz Hack
1) Unlock All Recipes
2) Food King 100% on Street
3) Quiz Answer always correct
4) Freeze Quiz timer
5) Set Quiz reward to :
note: in the 2.12 version,
doesn't work: unlock all recipes, food king i don't know, set quiz reward to:
works: quiz answer always correct, freeze quiz timer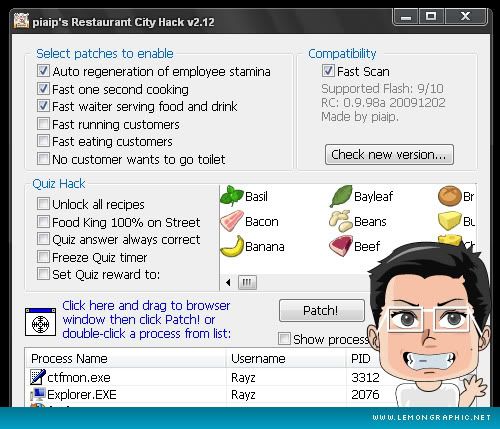 credits:
lemongraphic, piaip