Justin Bieber Biography Profile of a teenage heartthrob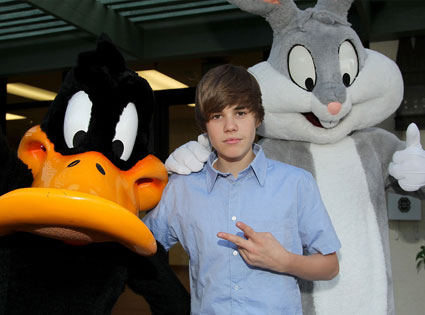 Date of Birth
1 March 1994, Stratford, Ontario, Canada
Birth Name
Justin Drew Bieber
Nickname
JBiebs
Height
5′ 7″ (1.70 m)
Justin Bieber was born March 1, 1994 in Stratford, Ontario. He is a Canadian pop and R&B singer and Scooter Braun, who later on became Justin's manager, discovered his performances on YouTube. Braun arranged for him to meet with Usher in Atlanta, Georgia and Bieber was soon signed to the Raymond Braun Media Group (RBMG), which is a joint venture between Braun and Usher, and then to a recording contract with Island Record that is tendered by L.A. Reid.
In 2009, Justin debut single, "One Time" was released globally and charted in the top 30 in over 10 countries. It was followed by his debut release, "My World" on November 17, 2009 that became a certified platinum in the United States, which at the time gave Bieber the highest debut by a new artist in the year, and made Bieber the first artist to have seven songs from a debut album chart on Billboard's Hot 100 chart. His first full studio release, My World 2.0 was released on March 23, 2010, debuting at number one and within the top ten of several countries. The international hit song, "Baby", preceded it.
Justin Bieber was on American Idol this evening entertaining his fans as well as the audiences watching the final show of this reality competition. The 16-year-old entertainer performed two songs 'You smiles and 'Baby' that had the ladies screaming wildly.
He will start recording his next album this summer of 2010 in New York City. British singer/songwriter Taio Cruz has confirmed that he is writing on Bieber's next venture.
The voice of Justin Bieber is now deeper than it was when he recorded his albums because of puberty. Bieber discussed his vocals remarked saying that, "It cracks. Like every teenage boy, I'm dealing with it and I have the best vocal coach in the world. Some of the notes I hit on "Baby" I can't hit anymore. We have to lower the key when I sing live."
Justin Bieber is frequently featured in teen magazines such as Tiger Beat, and has been named the newest "teen hearthrob".
Bieber's mother, Pattie Mallette, was 18 years old when she became pregnant with her son. Mallette, who worked a series of low-paying office jobs, raised Bieber as a single mother. However, Bieber maintains contact with his father, Jeremy Bieber. As he grew, Bieber taught himself to play the piano, drums, guitar, and trumpet. In early 2007, when he was twelve, Bieber sang Ne-Yo's "So Sick" for a local singing competition in Stratford and placed second. Mallette posted a video of the performance on YouTube for their family and friends to see. She continued to upload videos of Bieber singing covers of various R&B songs, and Bieber's popularity on the site grew
According to Jan Hoffman of The New York Times, part of Bieber's appeal stems from his YouTube channel. Long before he released his EP, My World, in mid-November, the YouTube videos attracted millions of views." Braun recognized the appeal. Prior to flying him to Atlanta, Braun wanted to "build him up more on YouTube first" and had Bieber record more home videos for the channel. "I said: 'Justin, sing like there's no one in the room. But let's not use expensive cameras.' We'll give it to kids, let them do the work, so that they feel like it's theirs," recalled Braun. Bieber continues to upload videos to the same channel and has opened a Twitter account, from which he interacts with fans regularly; his account was reported in August 2010 to have over 4.5 million followers. The accounts also serve marketing purposes; for example, Bieber's music video for "One Time" only began selling quickly after it was uploaded to YouTube.
Bieber has often been criticized for looking and sounding younger than his age and his effeminacy, teen pop music, image, and frequent media attention. He has been a frequent target for internet bloggers and message board posters —notably by users of internet message board 4chan, users of YouTube, and various Facebook groups. Pranks have included a successful campaign to push "Justin Bieber Syphilis" to the top of the Google Trends Hot Searches list; hacked YouTube videos that were altered so as to redirect users to adult websites or trigger pop-up messages saying that Bieber had been killed in a car accident; his Last.fm photograph being changed to pornographic images; various rumors circulated, from rumors that Bieber had died, joined a cult, or even that his mother was offered $50,000 to pose topless in Playboy magazine—none of which were true.[60] This all forced the affected companies to update their security protocols to reverse the damage, and Bieber himself tweeted to fans reassuring them that he was still living and that false rumors about his mother "just grossed and weirded me out."
Most notable was the campaign to send Bieber to North Korea as part of his world tour (entitled My World Tour). This was carried out in part by 4chan users voting for the country on the tour's website, for the free competition to nominate a bonus country for the tour—the second-placed country being Israel, which presumably was voted for by Israelis genuinely wishing to attend the concert. It is highly unlikely that Bieber would actually have been given permission by the North Korean government, or concert organizers and management, to enter the country. Universal Music Group has denied any involvement in a poll that became the target of an online prank. A spokesperson for UMG told BBC News that it was a "hoax" but declined to give any further comment.
Notable parodies of Bieber include part of Michael Bublé's music video for "Hollywood" and Galo Frito's parody of "Baby", which won the 2010 MTV Video Music Brazil Web Hit award.
Nick Collins of The Daily Telegraph speculated that "Bieber's character also appears to strike a particularly sour note with his Internet critics, with many remarks commenting on his youthful appearance, his teen-pop songs, his image as a heart-throb to young teenage girls and his manner of speech"
Trivia
Discovered by Scooter Braun, who is also his manager.
Usher Raymond signed him to Island Def Jam Records, and beat out Justin Timberlake's hopes of signing the young singer.
Often wears purple.
Taught himself four instruments including the piano, guitar, drums. He hopes to learn the violin.
Has a high GPA.
Can moonwalk.
The Dream produced and wrote his songs Baby and One Time.
His single "Baby" debuted at number 5 on the Billboard Hot 100 chart.
Moved to Atlanta, Georgia to pursue his music career.
Comes from Stratford, Ontario in Canada.
The craziest gift from a fan that he received was a rubber golf club.
Bought a Macbook Pro with his own money – one of his biggest purchases.
Likes the show "Smallville".
Started out by posting youtube videos in 2007.
His debut album was "My World".
His mom, Pattie Mallette, travels with him all the time.
Likes to play video games.
Has a signature hair style.
Met Celine Dion at a New York Knicks basketball game. She approached him and said my son loves your songs.
Plays guitar at many of his concerts.
Has performed with Rihanna at the Super Bowl Weekend concert in Miami.
Likes to play hockey and basketball.
Recorded a few songs with fellow singer Sean Kingston.
Has one day a week where he just relaxes.
Recorded "We Are The World" for Haiti. He got the opening verse which was previously sung by Lionel Richie.
Dad still lives in Canada.
Wrote the song "Down To Earth" about his parents' divorce.
The executive producer of his first record, My World was LA Reid.
Has a twitter which he updates daily.
Is good friends with Taylor Swift and Selena Gomez.
His father's name is Jeremy, and his mother's name is Patty.
Personal Quotes
[When asked by Chelsea Handler on her E! show "Chelsea Lately" if he was a player]: Hum, you know…
Where Are They Now
(August 2010) On his 2010 My World 2.0 World Tour