In Facebook, a post regarding the cancellation of 2014 FIBA is circulating and based on the feedback and comments, readers are believing the news. The reason for the cancellation is supposed to be the racist and derogatory comments made by Filipino fans against the Iranian team and its players.  The article can be found at  So,What's new?. http://sowhatsnews.wordpress.com/2013/08/12/2014-fiba-world-cup-cancelled-to-avoid-more-derogatory-remarks-in-case-of-gilas-defeat/
Before believing everything you read, you have to remember that:
"So, What's News? is a SATIRICAL & FICTIONAL news website. Our aim is to inject humor into everyday news to provide respite to readers who have grown weary with mainstream news organization's partisan, biased and depressing way of presenting the news."
EA Sports has announced that NBA Live 13 will be cancelled this year because they did not make it in time for a quality release.  They'd rather not release a sloppy version, they say.
Meanwhile, 2K sports' NBA 2k13 is making it to the top of the charts and will certainly have its sales skyrocket without its rival counterpart for sale this season.
I know of more fans who won't miss NBA Live 13 because they have enjoyed the 2k series for a long time now.
The Firm – I'm growing weary of this Tom Cruise film franchise.  It has only about 2 minutes of segment per episode that is related to the whole continuity of the conspiracy in lawyer Mitch MacDeere's place of employment.  The rest turns out to be a boring litany of  court cases and struggle of hero Mitch on how to right some wrongs.  Drab
Gossip Girl – WTF? Hasn't this been cancelled yet?  I hate Dan's slurry turret syndrome repetitive speech.  It's so so so, I mean, mean mean, fake, you know?  And all the characters turning on each other? Plotting, character assassinating each other, this leaves absolutely no moral values to be picked up from watching this show.  Unless you enjoy people screwing each other around, backstabbing each other, etc.
Guess we'll never know about that hot momma milf doctor and her family as Terra Nova will likely end up the highest-rated cancelled show of the season. It averaged 10.1 million viewers and a 3.6 adult demo rating.
My friend and I knew that no matter how good this show was, it would have a hard time justifying it's high budget sci fi production.  The pilot alone cost $20 Million to produce!.
But there's still a glimmer of hope, 20th century TV now plans to shop Terra Nova, starring Jason O'Mara and Stephen Lang, to other networks.
Ending Shows     2010-2011  •  July 1, 2011
Ace Of Cakes (FOOD)
Ending after ten seasons, final episode on 2/10/2011
All My Children (ABC)
Ending after forty-one seasons, final episode on 9/??/2011
America's Next Great Restaurant (NBC)
Ending after one season, final episode on 5/1/2011
Better With You (ABC)
Ending after one season, final episode on 5/11/2011
Big Love (HBO)
Ending after five seasons, final episode on 3/20/2011
Breaking In (FOX)
Ending after one season, final episode on 5/18/2011
Brothers & Sisters (ABC)
Ending after five seasons, final episode on 5/8/2011
Joseph Fiennes once again faces cancellation in his current TV Show Camelot, leading another unending storyline much like his cancelled Flash Forward.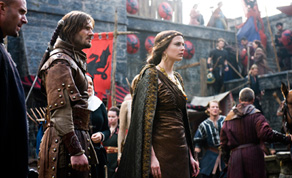 Camelot
Despite having the largest ever opening for a new drama series on Starz for its US premiere on April 1st and large UK audiences of 2.5 million for its opening night on Channel 4, it is confirmed that the second series of Camelot will not go into production.  Looks like the BBC Merlin show is all alone and back in the saddle with the Arthurian legend.  This as a blow to the film community in Ireland, with the first series of 'Camelot' filming in Wicklow's Ardmore Studios for six months during 2010, and brought an estimated $32 million to the Irish industry.
It's so sad that what drives the storyline is actually viewership and not the real story.  More viewers prompt scriptwriters to write more stories and extend the show.  Falling ratings means write some ending finale to wrap up the show.
This will be the final season of "Prison Break."
Fox will shift the show to Fridays this spring for its final run of episodes, taking over for "Tne: The Sarah Connor Chronicles" once the sci-fi drama finishes its run.  The drama returns to  the network's schedule on Friday, April 17 at 8 p.m. for its final lap.