Transformers 3 dark of the moon star Shia LaBeouf now admits was involved in more than just an on-screen romance.
"Look, you're on the set for six months, with someone who's rooting to be attracted to you, and you're rooting to be attracted to them," he says of an off-screen fling with Fox. "I never understood the separation of work and life in that situation. But the time I spent with Megan was our own thing, and I think you can see the chemistry on screen."
When asked about Fox's status at the time with now-husband Brian Austin Green, LaBeouf adds "It was what it was."
Can't get enough of this transformers girl? Well, here are some interesting trivia, plus some hot sexy pictures at the bottom.
Megan Fox's full name is Megan Denise Fox.
Megan was born on May 16, 1986 in Rockwood, Tennessee.
Megan Fox is the daughter of Darlene Tonachio.
Megan Fox is of Irish, Italian, French and Cherokee descent.
Megan Fox 5′ 6″ (1.68 m) tall.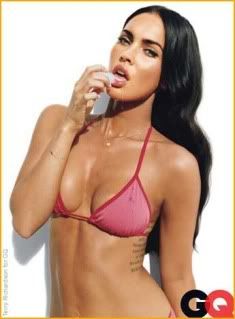 Megan Fox began training in drama and dance at the tender age of 5.
Megan Fox started acting and modeling at the age of 13.
Shia LaBeouf plays Sam Witwicky, an average teenager consumed with everyday worries about school, friends, cars and girls. Unaware that he alone is mankind's last chance for survival, Sam and his friend Mikaela (Megan Fox) find themselves in a tug of war between the Autobots and Decepticons.
Shia is a star on the rise and has become quite sought after. He starred in the summer surprise hit Disturbia and will be seen in a starring role in Indiana Jones IV alongside Harrison Ford as Indy's son.
Born: 11 June 1986
Birthplace: Los Angeles, California

Name :Megan Fox
Birth name : Megan Denise Fox
Nickname : Mega Fox , Foxy Megan
Date of birth : 16 May 1986
Place of birth : Tennessee, USA
Proffession : Actress
Height : 5′ 6″ (1.68 m)
BIOGRAPHY
Megan Fox born as Megan Denise Fox on May 16th, 1986 in Rockwood, Tennessee is a famous and beautiful American actress and model.