Guess we'll never know about that hot momma milf doctor and her family as Terra Nova will likely end up the highest-rated cancelled show of the season. It averaged 10.1 million viewers and a 3.6 adult demo rating.
My friend and I knew that no matter how good this show was, it would have a hard time justifying it's high budget sci fi production.  The pilot alone cost $20 Million to produce!.
But there's still a glimmer of hope, 20th century TV now plans to shop Terra Nova, starring Jason O'Mara and Stephen Lang, to other networks.
As of August 14, 2011, Here are the latest addition to the upcoming Game of Thrones Season 2:
Oona Chaplin, Charlie Chaplin's grand daughter  joins Game of Thrones next year as a character named Jeyne.  It is yet unknown as to which Jeyne Oona will play, as there were a number of Jeyne's in George RR. Martin's book.  Born in 1986, Chaplin has appeared in Daniel Craig's "Quantum of Solace" in 2008 as Perla de las Dunas, a receptionist.
Robert Pugh is also a new addition to the cast, playing Craster, the tenuous ally to the Night's Watch.
Joseph Fiennes once again faces cancellation in his current TV Show Camelot, leading another unending storyline much like his cancelled Flash Forward.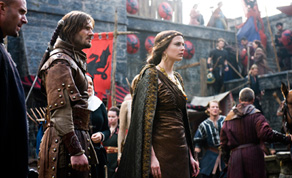 Camelot
Despite having the largest ever opening for a new drama series on Starz for its US premiere on April 1st and large UK audiences of 2.5 million for its opening night on Channel 4, it is confirmed that the second series of Camelot will not go into production.  Looks like the BBC Merlin show is all alone and back in the saddle with the Arthurian legend.  This as a blow to the film community in Ireland, with the first series of 'Camelot' filming in Wicklow's Ardmore Studios for six months during 2010, and brought an estimated $32 million to the Irish industry.
The HBO series was great! Can't wait for Game of Thrones season 2 next year, July 2012!  They have already begun casting for the actors and actresses who will play the GOT Characters!
Game of Thrones is an American medieval fantasy television series created for HBO by David Benioff and D. B. Weiss. The series is based on author George R. R. Martin's best-selling A Song of Ice and Fire series of seven planned fantasy novels, the first of which is called A Game of Thrones. The series debuted in the U.S. on April 17, 2011  There are currently four books out.