Guess we'll never know about that hot momma milf doctor and her family as Terra Nova will likely end up the highest-rated cancelled show of the season. It averaged 10.1 million viewers and a 3.6 adult demo rating.
As of August 14, 2011, Here are the latest addition to the upcoming Game of Thrones Season 2:
Joseph Fiennes once again faces cancellation in his current TV Show Camelot, leading another unending storyline much like his cancelled Flash Forward.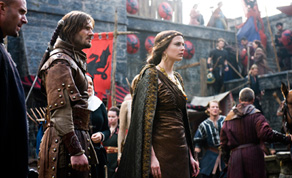 Camelot
The HBO series was great! Can't wait for Game of Thrones season 2 next year, July 2012!  They have already begun casting for the actors and actresses who will play the GOT Characters!